Rose's Luxury
Worth the hype.
If you like food and live in DC, I'm sure you've heard about Rose's Luxury by now. Bon Appétit named Aaron Silverman's restaurant the Best New Restaurant of 2014. I was lucky enough to be taken for my birthday by my sweet boyfriend and it was an enchanting evening.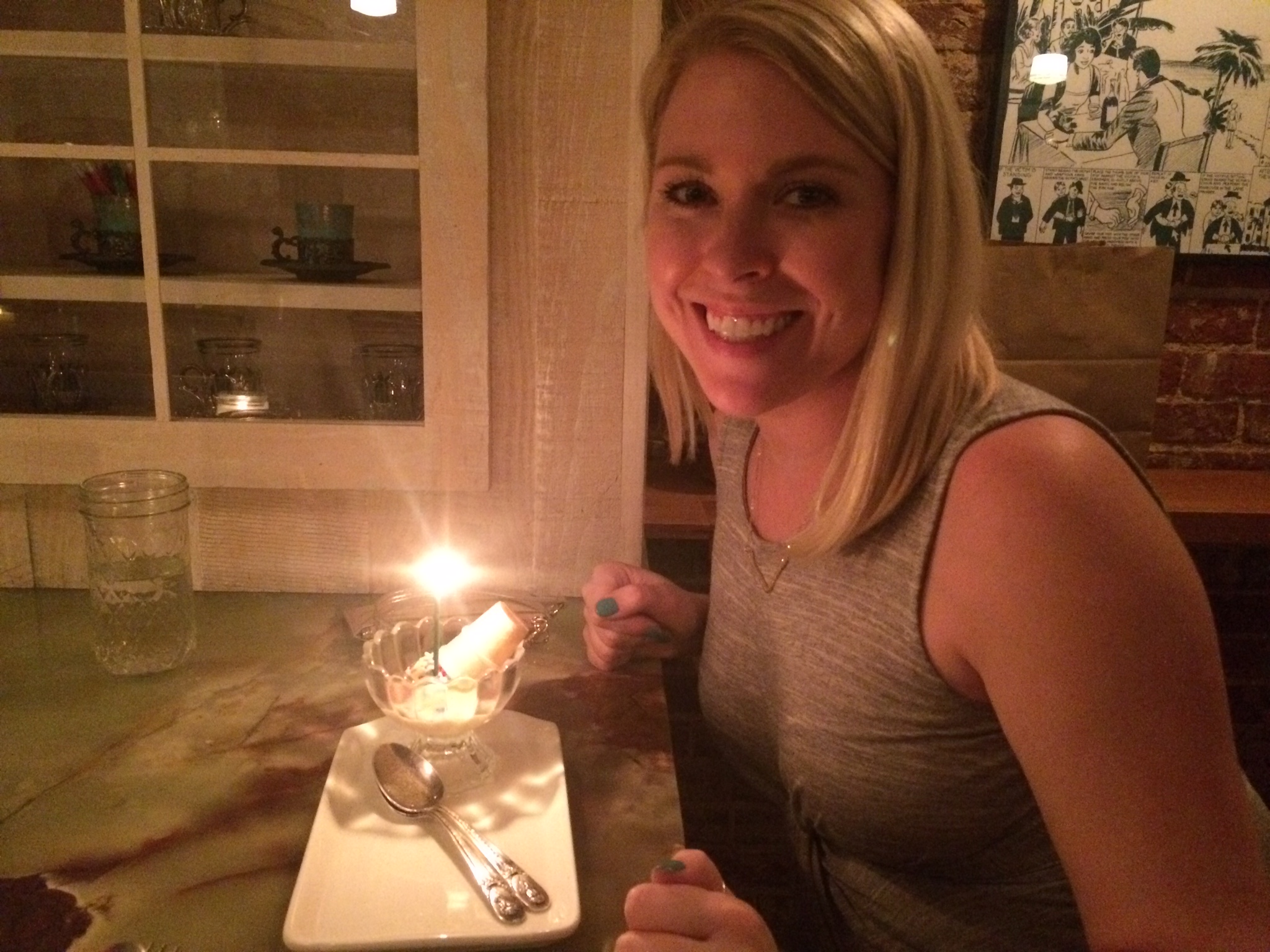 Rose's does not take reservations. I happen to love this concept because I love to soak up the whole dining out experience. Don't go to a place like this -- or any fine dining establishment -- if you're in a hurry. There are fast food restaurants for a reason. We arrived around 7pm on a Monday -- prime dining hour. We were able to snag two stools at the upstairs bar and enjoyed a few cocktails while we waited -- the best way to start a meal! My sweetie had given me a rose on the way to the restaurant as a clue, and the amazing staff brought me an adorable milk pitcher with water to keep it in during our meal. All of these little touches are what makes a good restaurant GREAT.
The ambiance and decor of the space was so inviting -- warm soft lighting, fresh flowers, rustic wood accents, and high ceilings with an open layout concept = perfection. We put a request in to sit at the upstairs bar because we love to interact with bartenders and fellow diners. It was the perfect location. We were able to look down upon the chef's counter and get a bird's eye view of the chef's creating their masterpieces and the diners indulging in them. Just watching the reactions as a diner tastes a chicken fried oyster, or the cacio e pepe is something to marvel at -- a look of surprise and intense satisfaction -- all those who cook hope for this reaction.
After our masterfully crafted cocktails we received a hot loaf of sweet and crispy milk bread with a soft and fluffy center. Accompanied by sweet, whipped butter and a savory option, with what we thought might be bonito flakes, this bread was something irresistible. I usually tend to skip bread service or stick to one piece... not here. We easily scarfed down two whole loaves by the end of the meal.
We sampled most of the menu items (see the gallery above), which is easy to do with the simple menu. Keeping the menu items to a minimum is something I search for in a great restaurant. Too many options compromise the attention to detail of each dish, and also give me anxiety about picking the right thing, let alone spending too much time reading the damn thing.
Everything was delicious. The chicken fried oysters with raw oyster tzatziki was one of my favorite bites. Perfectly crisp batter on a fresh, briny oyster that was enhanced by the bright raw oyster yogurt sauce. Divine. But the real star is the pork sausage and lychee salad with habanero. A deconstructed salad was served with sharp red onions, lychee fruit, a light and silky coconut-chile sauce and garlicky pork sausage. Our server instructed us to cut it up and mix it all together to create the most perfectly balanced bites. Spicy, crunchy, sweet, tart, plump HEAVEN.
We continued our tour of the menu with fresh spring pasta, smoked trout mousse, blade steak, brisket and a surprise complimentary side of awesome - aka crack noodles - aka cacio e pepe. The most decadent buttery, peppery, cheesy homemade pasta goodness. (You can ask for it upon request!) We made friends with the diners next to us and proceeded to share bites of the rest of the items we missed, so fun! Just as I thought I would burst at the seams, another surprise: cake batter ice cream with sprinkles in a tiny cone served in a dainty dish with a candle, for my birthday! We were able to make room for one last dessert - the eggplant tarte tatin. So unexpected, but so delicious. The eggplant is cooked down enough to release caramel-y sugars, but still remains savory enough for a perfectly unsweet dessert (my favorite).
Rose's really knows how to make you feel happy, and happiness is exuded throughout the entire restaurant. We spent the evening laughing, sipping, indulging and sharing -- what could be better than that?!